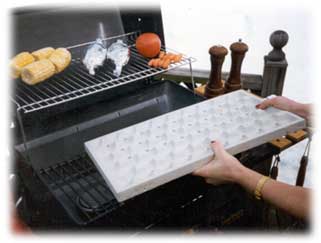 The FLAMETTE replaces the expensive
and hard to find DUCANE Lava Grate.


The

is a 1-piece ceramic insert that replaces lava rocks/briquettes and is designed to eliminate grease fires and flare-ups in your gas B-B-Q grill. The

is easy to install, economical and useful as it reduces gas usage and protects the burner from rusting. The

heats meats and other foods evenly thus allowing you to cook on low heat. For extra strength the

is also wire-reinforced. No more baby-sitting your grill-by using a

you will see that barbecuing on a gas grill has finally taken a turn for the better.

are truly a B-B-Q Lover's Dream!

Available in 4 popular sizes to fit most gas grills: 

11 1/2 x 16 inches
11 1/2 x 18 inches
11 1/2 x 20 inches
11 1/2 x 22 inches

Click here for measuring instructions.Flamette Inc is a manufacturer of Flamettes and Ceramic Briquettes for Gas BBQ Grills
STOP! GREASE FIRES & FLARE-UPS IN YOUR GAS GRILL BY USING A

Briquette/Lava Rock Alternative

Reduces Gas Usage

Wire-Reinforced for Extra Strength

Increases Life of the Burner

Enhances the Flavors of All Your Favorite Meats

Creates Evenly Heated Cooking Area

Flare-Up Reducer and Prevention
No More Baby-Sitting Your Gas Grill

Easy to Install Great for Gifts

1 Year Limited Warranty

Caution: We package the Flamette very carefully for shipping purposes. Other sellers may not be doing this. We will only be responsible for warranties on Flamettes sold directly from the factory!

Fits Ducane, Charbroil, Kenmore, Thermos Grills and many more
Made in the with pride
OEM, Distributor and Dealer inquiries welcome!